Currently, vacuum elevators are among the most popular House Lifts in Johor Bahru. Its compact size is ideal for one passenger, but a second person can squeeze in if necessary. This air-powered home elevator is a flexible option that will suit a variety of homes and requirements. These luxury home lifts are simple to install and extremely affordable.
How Does a House Lifts Work?
A vacuum elevator is made up of a smooth vertical cylinder and a car that moves up and down through air suction. The main thing that makes the elevator work is the difference in air pressure between the top of the car and the bottom of the car. This difference gives the elevator a push upward. The vacuum that is needed to lift the car is created by turbines at the top of the elevator that act as exhaust fans.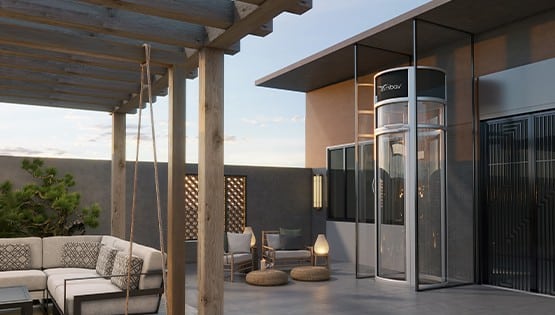 Download Free House Lifts Brochure
If You Requires More Information On Our House Lifts in Johor Bahru, Please Download The Brochure. The World's First House Lifts Is Uniquely Designed For Your Home.
What are the Different Types of Vacuum Lifts?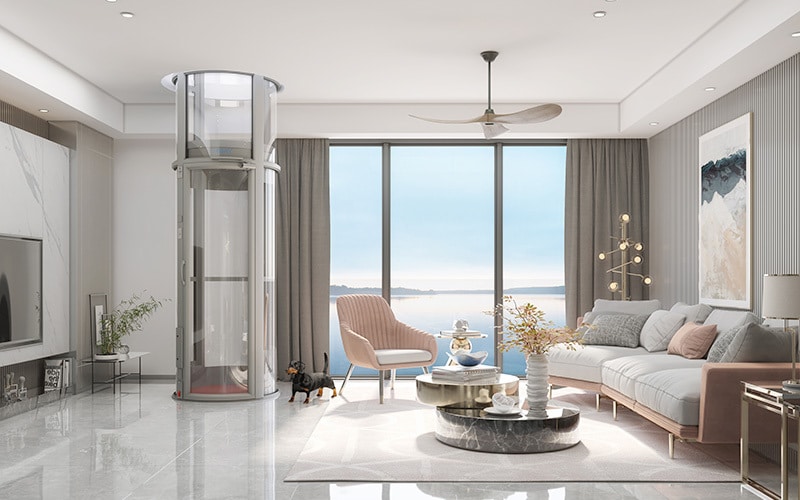 How to Select the Best Elevator for Your Needs
There are numerous reasons why you might decide to install an elevator in your home. To begin with, elevators are useful for people with mobility issues when they want to get from one level of the house to another, or if you have elderly parents at home. However, the secondary deciding factor is the amount of space you have in your home and the budget you have in mind. If you are looking for a safe and compact home lift that is also affordable, the Nibav vacuum lift is perfect for you.
What are the Principles of Operation for Our Vacuum Lifts ?
A moving car is enclosed inside the cylindrical vertical shaft that makes up the pneumatic vacuum home lifts.
The vacuum mechanism at the top of the elevator pulls air from above the seal of the car on the inside of the cylinder to create an area of low pressure above the cabin seal during ascending operations. Through holes or perforations in the ground floor cylinder panels, air pressure (higher than the low-pressure system above the cabin seal) enters the ground floor cylinder at the same time, adding to the lift.
In order to lower the vehicle smoothly without using any energy, a valve within the vacuum motor system controls the entry of air into the cylinder to restore pressure, making the vacuum elevator an environmentally friendly lift.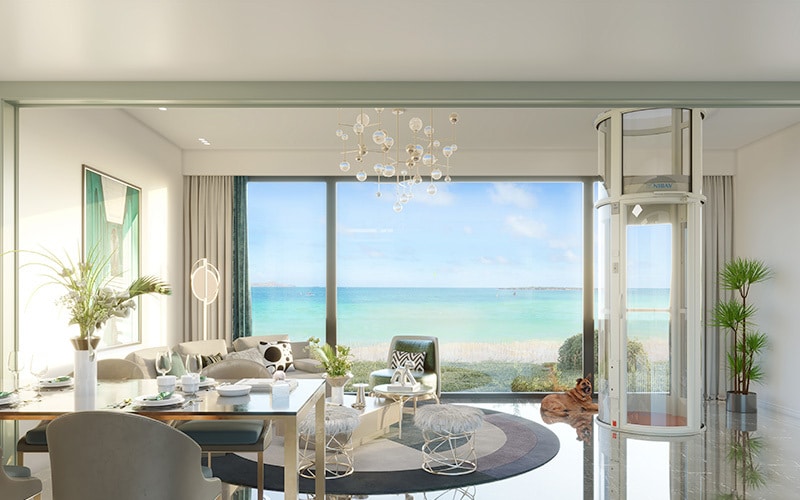 How To Install Our Lifts
Nibav Vacuum Elevators are quite easy to install. It is so basic that, under the right circumstances, it might be renovated and transferred to another location with similar dimensions. These pneumatic vacuum elevators require little to no civil work and no pit or machine room of any kind. The vacuum elevator can be installed in any type of dwelling, regardless of its flooring type and elevation structure, as long as it meets these fundamental specifications and has a cylindrical and panoramic glass construction with various access points.
How Safe and Durable are Our Vacuum House Lifts?
Nibav Home Elevators do not require battery backup or emergency power supply in the event of a power outage. The standard safety features in Nibav Home Elevators include telephone, light, fan, child switch, emergency descend, and alarm.
There is a very significant chance of occurrences such as the glass breaking in the elevators. However, Nibav elevators are designed with unbreakable glass – polycarbonate – to avoid such a thing from happening. Extreme temperature fluctuations and great impact resistance are features of this incredibly robust material. The lift structure is also designed with aircraft-grade galvanised steel.
Our vacuum lifts are also less dangerous in emergencies because of the auto descent functionality. This feature does not require battery backup or any other external source of power; as a result, the lift automatically descends to the building's lowest floor before opening to let passengers escape. Therefore, there is absolutely no danger of being stuck inside the lift.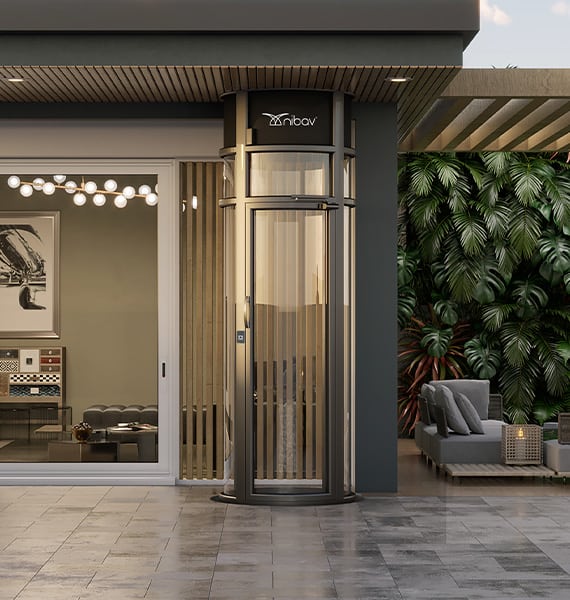 What Specifications are Available?
How Does a Nibav Lift Operate
Nibav vacuum elevators use air to operate. They have powerful turbine motors on the top of the cabin that suction the air from the cylinder, causing a difference in air pressure and allowing the lift to ascend with the help of an air-tight seal. The air pressure is later balanced with the help of an electronic valve which in turn restores the air pressure causing the cabin to descend under gravity.
Specifications
Nibav lifts can fit 2 people at a time, and can go up to four floors, including the ground. We offer two configuration options: integrated (Power on Top) or split (Remote Power).
Door opening direction is a choice, and as an alternative, you can opt for a dual exit per floor.
Pure white and cream are the basic colours for our elevators and lifts; however, you can select a colour from our custom palette, which also includes silver grey, pebble grey, terracotta, jet black, and gold.
Our Southeast Asian factories' combination of Australian technology, European components, and top-notch industrial efficiency enables us to provide the best of all worlds at a competitive price.
Electrical Requirement: 230V, 60/50 Hz, 22-amp single-phase power.
Headroom: Sound Proof: 2800mm
Special Glass: Polycarbonate (250 times stronger than glass)
Power Consumption: 3.7kVA
What are the vacuum home lift models available in Malaysia? What about the exterior diameter and weight of the lifts?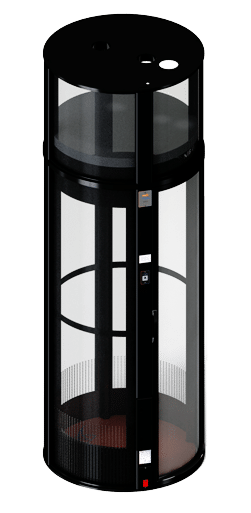 At Nibav, when it comes to House Lifts, we provide a range of models, and the price for those elevators varies depending on the model and customisation choices opted for.
Integrated Unit - G+1
Split Unit - G+1
Integrated Unit with Sound Proof - G+1
Integrated Unit - G+2
Split Unit - G+2
Integrated Unit with Sound Proof - G+2
Integrated Unit - G+3
Split Unit - G+3
Integrated Unit with Sound Proof - G+3
How to Maintain Vacuum House Lifts in Malaysia
Due to the simplicity of our vacuum technology, which utilises just air power to elevate the lift cabin, we can characterise its maintenance as quick, simple, clean, and effective. All the required materials are eco-friendly, thus the procedure is both effective and sustainable.
What are the Benefits of Vacuum Lifts in Malaysia?
Highly Secure
Vacuum elevators come with several emergency safety features and are made of aircraft-grade materials.
Minimal Installation
Vacuum elevators, unlike traditional elevators, do not require a machine room or an excavation pit.
Eco-Friendly
Our energy-efficient elevators consume less energy than the average household appliance.
Compact & Aesthetic
Nibav home lifts are a welcome change from the dull, mechanical appearance of standard elevators thanks to their panoramic glass walls.
What is the Difference Between Vacuum House Lifts and Regular Lifts?
The primary difference between a vacuum elevator and conventional elevators is that vacuum elevators function using air as their operational mechanism. When compared to a conventional lift, House Lifts are much smaller and safer. They also require lesser maintenance and can be installed in a matter of a day.

A Panoramic 360-Degree View
Polycarbonate, the same material used to make bulletproof glasses, is employed in Nibav House Lifts unbreakable glass technology.

CKD (Completely Knocked Down)
The lift will be delivered to your home partially built. We do not do any welding, taping, or ducting work at your home because all our engineers do is put these pieces together (like a Lego). Thus, we are able to complete the lift installation within 48 hours and meet the manufacturer's quality criteria at the same time.

Safety
No battery backup or temporary power supply is required by Nibav House Lifts, the only lift technology in the world. Nibav House Lifts come equipped with an array of conventional safety features, including a telephone, light, fan, child switch, emergency descent, and an alarm.
Self-Supporting Design
A unique feature of Nibav House Lifts is that they are completely self-supporting. This assures that no civil work is required for this lift. No side walls, columns, beams, or other supporting structures are required. We are able to maximize shaft-to-cabin space since the shaft and the cabin are engineered and constructed at the same facility.

Low Upkeep and Eco-Friendly
Using only 3.7 kVA of power, Nibav House Lifts travel at speeds of up to 7.5 mph. This elevator uses ZERO POWER while descending, making it a GREEN Elevator. Our elevators do not require any oil or lubrication because they operate solely on air. As a result, maintenance is now only required once every four months, rather than once each month. A one-year guarantee is included with all of our Nibav Lifts.

Relatively lightweight
Aluminium and galvanised steel are used in the production of Nibav Home Elevators. In this way, it is possible to keep the elevator's weight down while maintaining its structural integrity. As a result, the lifts will last longer and be of higher quality because corrosion is a thing of the past. The weight of a two-stop elevator is approximately 680 KG. If you have a balcony, you can put an elevator there without the need for any special concreting.

No need for a machine room or a pit.
Since they collect dust and serve as a breeding ground for insects and termites, elevator pits have earned the moniker 'Devil's Basement.' Nibav Home Elevators don't have this problem because they don't require a pit. Because the lift's machinery is integrated into the structure itself, there is no need for a separate machine room. There are two choices based on how much room you have available.

TUV SUD Seal of Approval
TUV SUD, the world's leading management and process certification agency, has standardised NIBAV House Lifts with the ISO 9001 Quality Management System (QMS). To become the first company to manufacture vacuum elevators certified by TUV SUD, NIBAV House Lifts must demonstrate its capacity to operate efficiently, produce high-quality products, and exceed customers' expectations in every way.
Are there any safety considerations to keep in mind when installing a house lift in a residential property?
Yes, there are several safety considerations to keep in mind when installing a home lift in a residential property. First, it is important to make sure that the lift is installed properly and securely to the wall, floor, or other structure. Additionally, it is important to ensure that the lift is properly grounded and that all electrical wiring is done according to code. It is also essential to ensure that all safety features, such as emergency stop buttons and safety sensors, are working correctly. Lastly, it is important to ensure that the lift is regularly inspected and serviced to ensure that it is functioning safely and properly.
Can house lifts be customized to fit specific design requirements, and what options are available?
Yes, nibav House Lifts can be customized to fit specific design requirements. Some of the options available include custom colors, finishes, and sizes. Other options include manual or automatic operation, additional safety features, and custom control systems.
Are there any specific features or technologies that are recommended for house lifts in Johor Bahru?
Some features and technologies recommended for Nibav house lifts in Johor Bahru include automatic car door openers, automatic closing doors, advanced safety features, keyless entry, voice–activated commands, and smart phone integration. Additionally, house lifts with fire–resistant doors, emergency stop buttons, and anti–collision sensors are also recommended.
What are the most common types of house lifts available in Johor Bahru?
The most common types of home lifts available in Johor Bahru are:
Residential lifts, small house lifts, compact home lifts, pneumatic vacuum lifts, home elevator, and residential elevators.