A Stylish and Convenient Addition to Your Home
Glass lifts have been around for years, but in recent times, their popularity has grown exponentially. With advancements in technology and design, glass lifts have become a preferred choice for homeowners looking to enhance their home's aesthetics and functionality. Nibav Lifts, a leading manufacturer of residential glass lifts, has been at the forefront of this revolution.
Glass Lifts are a great way to enhance the aesthetics and functionality of your home. These lifts offer an elegant, modern solution for multistory homes and high-rise buildings. Nibav lifts is one of the leading manufacturers of glass lifts that come with features such as advanced safety features and superior design elements. With their range of innovative designs, they are sure to add both style and convenience to any home or office. So, if you're looking for a practical yet stylish way to make your living space more accessible, look no further than glass lifts by Nibav!
Glass lifts, also known as panoramic lifts or scenic lifts, are elevators designed with glass walls that provide passengers with a view of their surroundings as they travel up or down a building. They offer a unique and stylish alternative to traditional elevators, adding a touch of luxury to any building. Glass lifts can be installed in both residential and commercial properties and are becoming increasingly popular in modern home design.
Benefits of Glass Lifts
Glass lifts offer numerous benefits to homeowners. Here are some of the advantages of installing a glass lift in your home:
Aesthetics: Glass lifts are visually appealing and add a touch of sophistication to any home. The transparent walls allow natural light to flood into the lift, making it feel spacious and airy. Additionally, glass lifts come in various designs, allowing homeowners to choose a style that complements their home's architecture.

Functionality: Glass lifts are practical and convenient, especially for homeowners with mobility issues. They provide easy access to different levels of the home, making it easier for people to move around. Additionally, glass lifts can transport heavy items such as groceries, laundry, or furniture with ease, eliminating the need to use the stairs.

Increase Property Value: Installing a glass lift in your home can increase its value significantly. Glass lifts are a luxurious addition to any property and can make it more attractive to potential buyers.

Space-saving: Glass lifts have a smaller footprint than traditional lifts, which means they take up less space. They are an excellent choice for smaller homes or apartments where space is at a premium.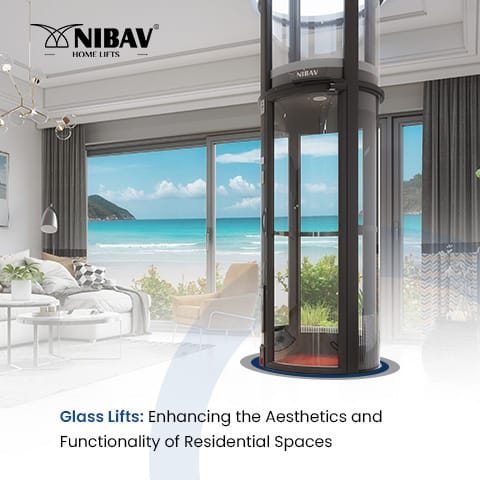 Nibav Lifts: The Leading Manufacturer of Residential Glass Lifts
Nibav Lifts is a leading manufacturer of residential glass lifts, and their products are renowned for their quality, durability, and design. Here's why Nibav Lifts stands out in this industry:
Innovative Design: Nibav Lifts' glass lifts feature a unique and innovative design that sets them apart from the competition. They offer a range of designs, including transparent, semi-transparent, and tinted glass options. Their lifts are also available in different sizes, making them suitable for a wide range of residential properties.

High-Quality Materials: Nibav Lifts uses only high-quality materials in the production of their lifts. Their glass panels are made of toughened safety glass, which is resistant to scratches and breakages. The lifts' frames are made of sturdy steel, ensuring their durability and strength.

Customization: Nibav Lifts offers customization options to homeowners, allowing them to design a glass lift that meets their specific needs and preferences. They offer a range of finishes, including stainless steel, powder-coated, and brushed metal, ensuring that the lift matches the home's décor.

Safety Features: Nibav lifts are designed with safety in mind. They come equipped with emergency stops, door sensors, and other features that ensure the safety of passengers.

Easy Installation: Nibav lifts are designed to be easy to install, minimizing disruption to the home. They can also be installed in a wide range of locations, making them a flexible option for any home.

Choosing the Right Glass Lift for Your Home: When choosing a glass home lift for your home, there are several factors to consider. Here are some of the key things to keep in mind:

Space: Glass lifts come in different sizes, so it's essential to measure the space where you want to install the lift to ensure it fits perfectly.

Capacity: Consider the number of people who will be using the lift and the weight capacity. Nibav Lifts offers lifts with different weight capacities, ensuring that you can find one that suits your needs.
Finally, Glass lifts are an excellent addition to any home, providing a modern and sleek look, convenience, and accessibility, and increasing property value. Residential glass lifts and Nibav lifts offer a range of features and benefits that make them an ideal choice for homeowners.
Download Free Home Lifts Brochure